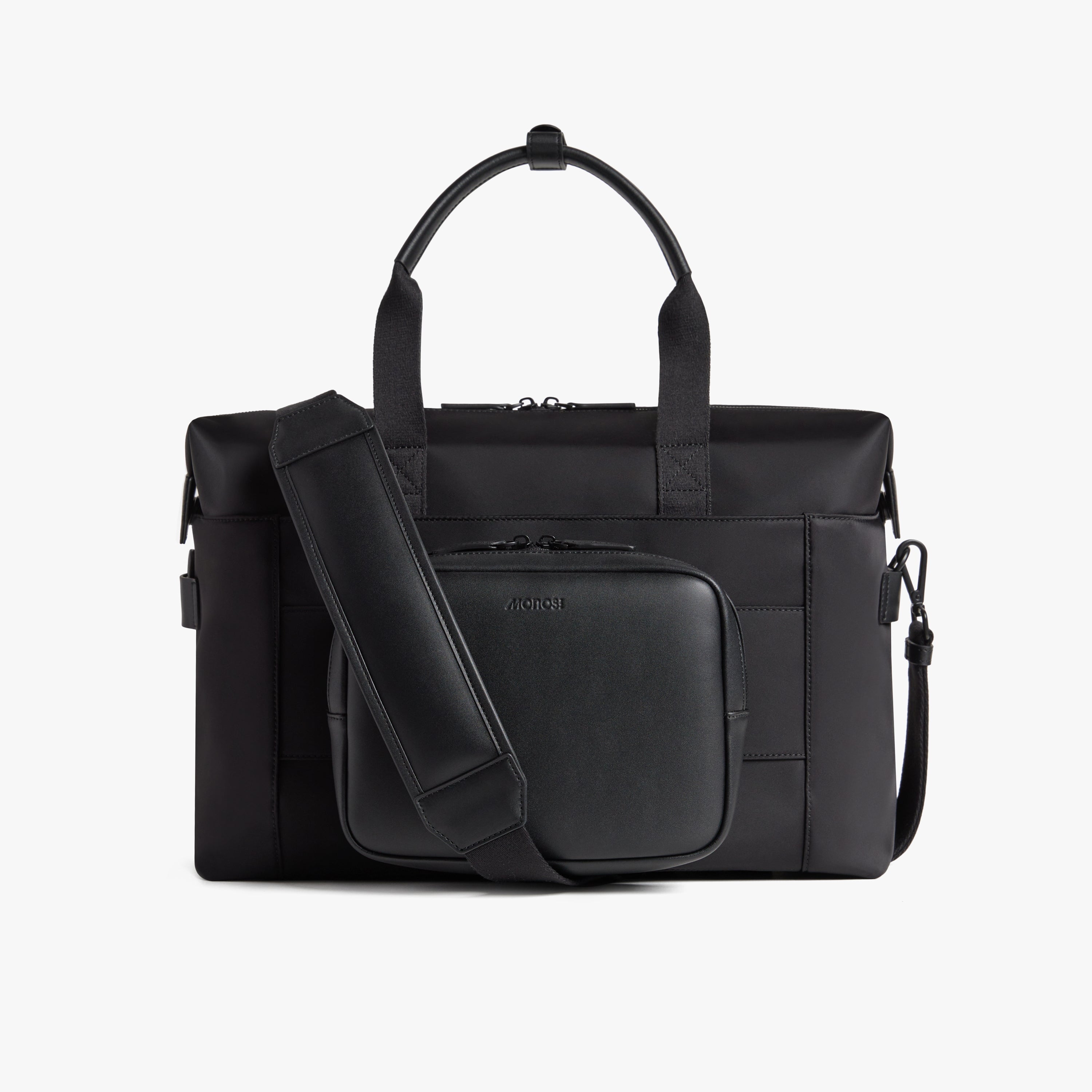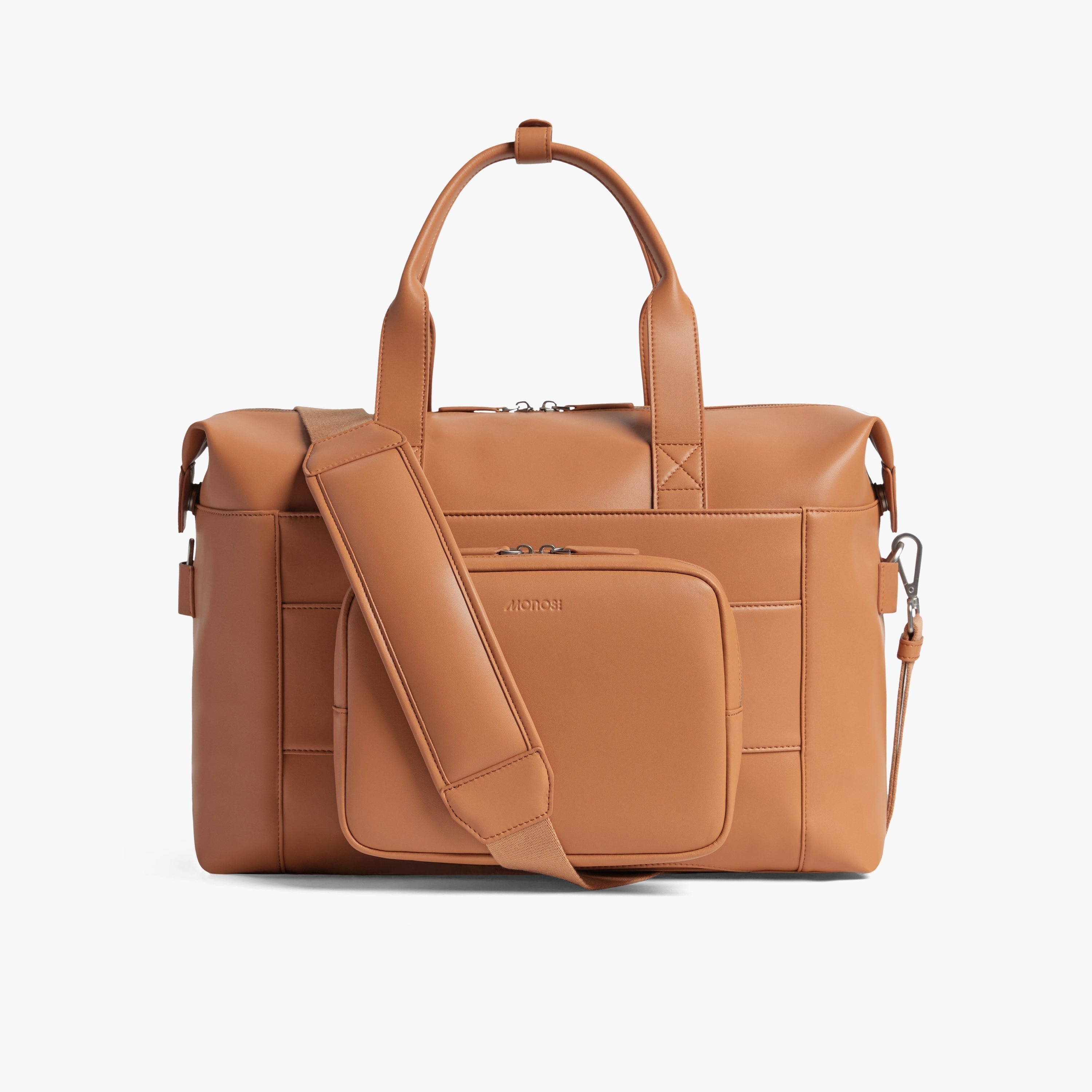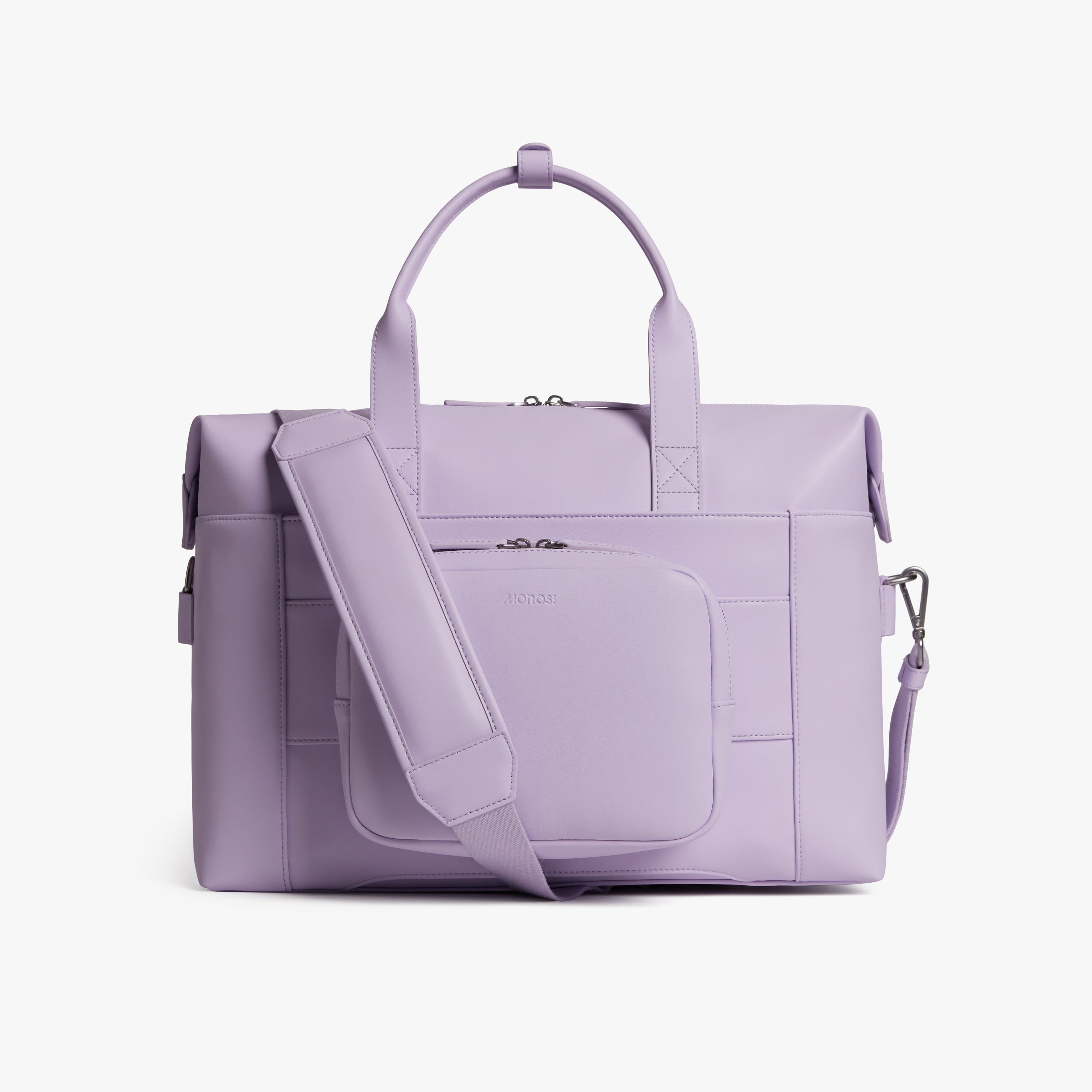 Description

Features

Specs

Warranty & Returns
Metro Duffel
The nylon finish is made with premium nylon twill and features ultra-microfibre vegan leather accents
The vegan leather finish is made with ultra-microfibre vegan leather
Both the nylon and vegan leather finishes are water and scratch-resistant
Magnetic snaps underneath the main zipper compartment allow for easier packing and unpacking
15" laptop compartment

Zipper pocket inside for extra organization
Side pockets inside main compartment fit water bottle or compact umbrella, and magnetic snap closures keep the pockets closed and out of the way when not in use
Equipped with an adjustable, removable shoulder strap and a trolley sleeve to secure your duffel to a suitcase handle while travelling
Comes with the Metro Classic Kit, featuring QuickSnap™
Metro Classic Kit
Interchangeable kit is easy to add or remove with QuickSnap™
Made with water-resistant ultra-microfibre vegan leather
Zippered pocket with translucent window
Two other pockets can fit passport, powerbank, or wallet
Removable carabiner for keys or fobs
Ideal for taking essentials with you while in transit

Metro Duffel (without Metro Kit)
Exterior measurements: 16.3" × 11.2" × 7.2"
Weight: 3 lb (nylon) / 3.6 lb (vegan leather)
Volume: 22 L
Metro Classic Kit
Exterior measurements: 8.75" × 6.75" × 2"
Weight: 0.6 lb
Description
Features
Metro Duffel
The nylon finish is made with premium nylon twill and features ultra-microfibre vegan leather accents
The vegan leather finish is made with ultra-microfibre vegan leather
Both the nylon and vegan leather finishes are water and scratch-resistant
Magnetic snaps underneath the main zipper compartment allow for easier packing and unpacking
15" laptop compartment

Zipper pocket inside for extra organization
Side pockets inside main compartment fit water bottle or compact umbrella, and magnetic snap closures keep the pockets closed and out of the way when not in use
Equipped with an adjustable, removable shoulder strap and a trolley sleeve to secure your duffel to a suitcase handle while travelling
Comes with the Metro Classic Kit, featuring QuickSnap™
Metro Classic Kit
Interchangeable kit is easy to add or remove with QuickSnap™
Made with water-resistant ultra-microfibre vegan leather
Zippered pocket with translucent window
Two other pockets can fit passport, powerbank, or wallet
Removable carabiner for keys or fobs
Ideal for taking essentials with you while in transit

Specs
Metro Duffel (without Metro Kit)
Exterior measurements: 16.3" × 11.2" × 7.2"
Weight: 3 lb (nylon) / 3.6 lb (vegan leather)
Volume: 22 L
Metro Classic Kit
Exterior measurements: 8.75" × 6.75" × 2"
Weight: 0.6 lb
Warranty & Returns
QuickSnap™ Modular Kit System
Our Metro Backpack and Metro Duffel are designed for everyday life on the move. With our unique QuickSnap™ Modular Kit System, the interchangeable Metro Kit detaches easily, so you can quickly swap kits or transfer to another Metro bag.
Boarding a plane or train but don't want to sacrifice legroom? Stow your travel bag and just bring your Metro Kit to your seat. Going out but travelling light? Remove your Metro Kit and step out. However you move, your essentials are just a quick snap away.
Learn more
A place for everything
Inside the zippered main compartment, two interior side pockets hold your water bottle and compact umbrella in place, while magnetic snap closures keep the pockets out of the way when not in use. Store your laptop or tablet inside the interior sleeve, and keep items needed for quick access in the outside front pocket. Need more storage in your Duffel bag? The built-in trolley sleeve conveniently converts into another pocket when not in use.